Image by Russell Holden from Pixabay
Hi again!
First things first, I owe you an apology for how lax I have been with my blog posts. As a Marketing student/ tutor/ practitioner, I am well aware that the first rule of blogging is consistency, and that is a rule that I have not just broken over the past two years, I have obliterated it! My excuse, I have been busy studying for a MA, a task which has occupied every facet of my being since May 2016. But now it is done! I handed in my final assignment, a 7000-word behemoth of a dissertation and a 30-min presentation on the 5th April, and am now basking in the light of free-time.*
*For basking, read "walking around the house unsure of who I am, or what I used to do with my time before I started the course".
Long story, short. I am back. I now have time to train, and have set my sights on new goal, an Olympic Distance Triathlon in July. Oh, and a Half Marathon in June, and a Marathon in October. As someone who is notorious for taking on too much and burning herself out with self-induced pressure, what could ever go wrong?!
If at first you don't succeed, Tri, Tri and Tri again!
I need to admit something, I have completed triathlons previously. In fact between 2011 and now, I have taken part in eight triathlons of various distances, and hated them all because I am rubbish at swimming and biking, meaning that the final run is the only part I really excell at (and I use the term excell very loosely).
Swimming is not a skill that comes naturally to me, unlike my twin sister and my husband, both of whom I am sure have fish DNA in their blood. Being a sickly asthmatic child, whose asthma was inflamed by exercise/chlorine/pollen/the outdoors [delete as appropriate], swimming lessons at school were a constant challenge. No matter how much I tried, I didn't seem to progress and in my final year at Primary School, I vividly remember my sister being awarded her 1-mile swimming badge in the same assembly as I got my 10m badge. As I then moved on to a secondary school without a pool, I went years without ever getting back into a pool. When I started my first office-job, I briefly flirted with swimming at lunchtimes, but that stopped when I left that job and never restarted.
Fast forward to 2010, Mike entered a triathlon, and was encouraging me (bullying) to sign up to, and in my heart I wanted to, but my fear of the water stopped me. The encourgement continued, and I realised I needed to do something, otherwise I would go through my whole life being scared of the pool. As a result, in 2010, I took the big step (for me) of booking myself onto a course of swimming lessons. The first time my (very patient) teacher asked me to breathe out underwater was terrifying, I worked myself up into such a tizzy I nearly cried.
Thankfully, I have now passed this stage, and I feel more confident in the water, but the swimming portion of the triathlon is still a source of dread for me. After my break at Club La Santa this Christmas, I finally recognised that if I wanted to improve my swimming, I might need to actually swim regularly. Shocking, I know! And for the last six weeks, that is exactly what I've been doing, I printed out a plan and have faithfully swum twice a week. OK, I am never going to challenge for an olympic medal, but I am starting to see improvements. Alongside this, I have also started to cycle more, and have tried to get out at least once a week on my own, as well as a brick session to get my legs used to that horrid jelly feeling when you transition from the bike onto the run. I am hoping that these small steps will make my tester triathlon at Tewkesbury on the 5th May a whole lot more enjoyable.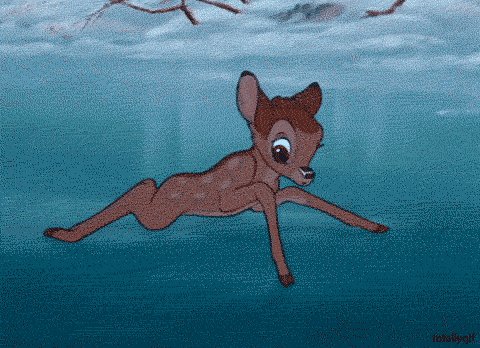 Jokes aside, if anyone feels like I did about swimming, then I heartily recommend adult swimming lessons. Most local leisure centres offer them, and they are fairly inexpensive, but invaluable. I had a 12-week course, designed to get me swimming 400m front crawl, and it has massively helped my confidence in the water. I might not love swimming yet, but I am starting to enjoy it more.
So that is where I am now, giving 100% in my training for a triathlon, with the hope of improving my time. I realise that I still have to face my fear of the open water, but one step at a time! I will keep you up-to-date with how it all goes.
Until next time, happy training!
Helen x